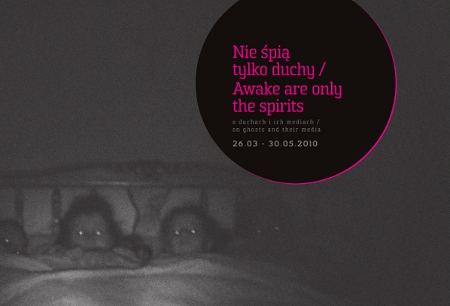 26.03.2010 – 30.05.2010
Nie śpią tylko duchy /
Awake are only the spiritsr />
o duchach i ich mediach /
on ghosts and their media
kuratorzy / curated by: Inke Arns & Thibaut de Ruyter
artyści / artists:
Lucas & Jason Ajemian (US), Archiwum anonimowego
obserwatora duchów (DE, kurator: hans w. koch), Sam Ashley (US),
Corinne May Botz (US), Erik Bünger (SE), Damien Cadio (FR), Nina
Fischer/Maroan el Sani (DE), Agne`s Geoffray (FR), Kathrin Günter
(DE), Carl Michael von Hausswolff (SE), Tim Hecker (CA), Martin Howse
(GB), Międzynarodowe Towarzystwo Nekronautyczne/INS (GB), Friedrich
Jürgenson (SE), Joep van Liefland (NL), Chris Marker (FR), Jorge
Queiroz (PT), Scanner (GB), Jan Peter E.R. Sonntag (DE), Suzanne
Treister (GB)
otwarcie wystawy / exhibition opening:

26 marca, godz. 19.00 / 26th March, 7 PM
27 – 28.03.2010

warsztaty / workshops:
Martin Howse: WV2: Poza zerem / Beyond the Zero
27.03.2010
16.00 oprowadzanie kuratorskie / guided tour with the curators
18.00 Erik Bünger: Wykład o schozofonii / Lecture on schizophonia
19.30 koncerty / concerts: Zenial; Carl Michael von Hausswolff
Wystawa, zorganizowana we współpracy z Hartware MedienKunstVerein w
Dortmundzie, gdzie była prezentowana w 2009, jest oparta na archiwum
nagrań Friedricha Jürgensona, który w 1959 roku odkrył tak zwane
Electronic Voice Phenomenon (EVP). Projekt przybliża historie
duchów, które starają się odpowiedzieć na pytanie dlaczego, przy
całym naszym oświeceniu, ciągle przypisujemy irracjonalne
właściwości nowym mediom i technologiom, jak na przykład
zdolność do przekazywania wiadomości spoza naszego świata.
The Awake Are Only the Spirits exhibition, organized in cooperation
with Hartware MedienKunstVerein (HMKV) in Dortmund where it presented
in 2009, bases on the audio archive of Friedrich Jürgenson who
discovered the so-called Electronic Voice Phenomenon (EVP) in 1959.
The projects reflects upon different ghosts' stories, questionning
why – despite our faith in the rational – at regular intervals
irrational properties are ascribed to respective new media and
technologies, such as those purportedly serving as channels for
messages from the beyond.
Więcej informacji / More information
CENTRUM SZTUKI WSPÓŁCZESNEJ 'ZNAKI CZASU' W TORUNIU /
CENTRE OF CONTEMPORARY ART 'ZNAKI CZASU' IN TORUN
WAŁY GEN. SIKORSKIEGO 13, 87-100 TORUŃ, POLAND
www.csw.torun.pl