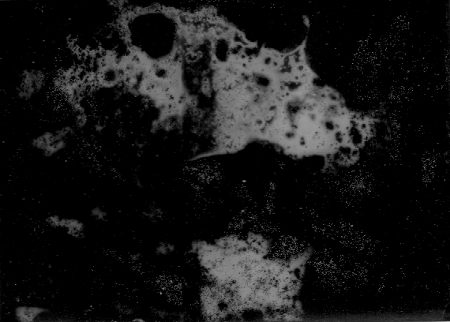 Below – and above – are the results of my recent experiments in Peenemuende, mentioned in an earlier post. Several pieces of photographic paper hidden in the sand and under water for 30 minutes without any light protection.
Photographic paper is a rather patient absorber, and therefore very suitable for these kind of experiments, as it is not as sensitive as fellow film materials. In the thought-o-grahical context of these experiments, light has a double purpose. On one hand it naturally exposes all light sensitive materials and on the other hand it acts as a carrier of something that I will call creatures of thought (whatever these creatures of thought might be and wherever they might come from and whatever they might tell me), I will maybe never know. It is also not important.
The inclusion of light in these experiments allows or even enables these creatures of thought to be absorbed and/or reflected and finally revealed throughout chemical processing on the very photographic paper.
In my earlier thought-o-graphic experiments where light was strictly excluded during the entire process, I was (and still am) concerned with objects or subjects that reflect their specific memory, history, feelings, atmosphere, thought forms etc.. onto the photographic paper. Most of the time in direct contact, the object or subject emits or transmits, the paper absorbs.
In both cases the sensitive layer acts as a revelation or mirror of the presence of these alleged emissions or respectively creatures of thought.
PS: Drawing with light, reflection and absorbation, creatures of thought