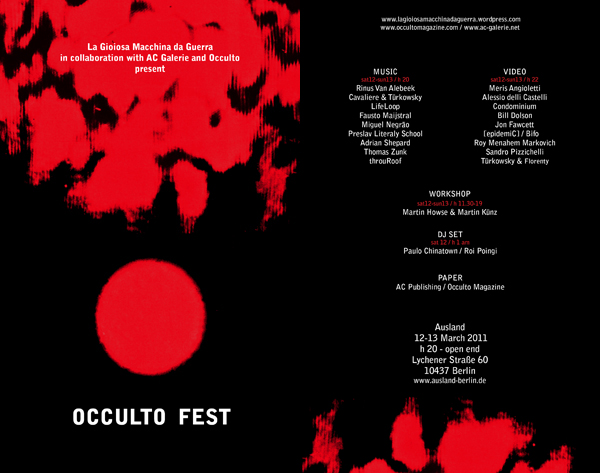 All Infos:
La Gioiosa Macchina da Guerra in collaboration with AC Galerie and
Occulto announce
OCCULTO FEST
A two day festival. A series of sound performances. A video screening. A
workshop.
12-13 March 2011
Ausland
Lychener Straße 60
10437Berlin
Ausland
SCREENING
Preview of THIRD PILL – Episode 2 – Curated by Alice Cannava (AC Galerie)
SAT 12 March: h 8 pm
SUN 13 March: h 9.30 pm
http://www.ac-galerie.net
Meris Angioletti – "Night Shifts" (2005)
http://web.freeundo.it/astro/www/home.htm
Alessio delli Castelli – "Marry! Marry!" (2008)
http://www.ac-galerie.net/adc_pr.html
Condominium – "U.S.O. Unidentified Submerged Objects"
http://www.condominiumfilm.com
Bill Dolson – "Storms" (2009 – ongoing)
http://www.billdolson.com
[epidemiC] – "Loveletter.vbs reading" (2001)
http://epidemic.ws
Jon Fawcett – "Common Star" (2005)
www.jonfawcett.com
Kathrin Günter – "Cabinet for Thoughtography" (2008-ongoing)
http://www.fotokatie.com
Jeff Mann – "Apparition Apparatus" (1999)
http://jeffmann.com
Roy Menahem Markovich – "Untitled"
http://vimeo.com/15485432
Sandro Pizzichelli – "HG" (2008)
http://www.vimeo.com/sandropizzichelli
Marcel Türkowsky & Elise Florenty – "Pendulum Report" (2009-2011)
http://www.myspace.com/marceltuerkowsky
SOUND PERFORMANCES Curated by Federica Rossella aka DuChamp
http://soundcloud.com/duchamp-1/duchamp_gemini
SAT 12 March: h 9pm
Preslav Literary School
http://www.preslavliteraryschool.co.uk
Thomas Zunk
http://www.myspace.com/thomaszunk
TestCard – Brainmachine
http://www.testcard.org
Miguel Negrão
http://www.friendlyvirus.org/artists/zlb/zlb_music.html
Fausto Maijstral
http://www.myspace.com/faustomaijstralband
Roi Poingi
http://soundcloud.com/poingi
Paulo Chinatown
http://www.facebook.com/ChinatownSoundSystem
SUN 13 March: h 8pm
Rinus Van Alebeek
http://zeromoon.com/rinus/
Francesco Cavaliere & Marcel Türkowsky
http://www.myspace.com/marceltuerkowsky
http://www.nathiascatola.com/
LifeLoop
http://lifeloop.org/
throuRoof
http://www.blissland.co.cc
WORKSHOP
Martin Howse & Martin Kuenz – "Detection"
Workshop fee: 30 euros – subscriptions here: info.occultofest@gmail.com
Sat 12 + Sun 13 / h 11.30-19
http://www.1010.co.uk/org
STATEMENT (for those who read)
At the end of the 1970s Sam Wagstaff put together an extensive collection of photos taken between 1870 and the 1930s, including Mumler's ghost portraits, Kirlian's experiments, Darget's "thoughts photographic pictures" and other pioneering photographer's works attempting to demonstrate the reality of certain supernatural phenomena. These pictures, beside the historical and ethnographic interest, are strongly suggestive abstract pieces, and Wagstaff explained that the he had collected them to satisfy his own desire to contemplate and explore the "pleasure to see, as when we see people dancing from a window".
With somehow similar hopes and fears, several people tried to start a communication within a non-human dimension, experiment known as Electronic Voice Phenomena (EVP), voice-like sounds not resulting from intentional voice recordings or renderings. They have been claimed to derive either from paranormal events, or from a kind of materializing of the subconscious (apophenia, or auditory pareidolia), or to be simply hoaxes.
In his short novel It Belongs to the Cucumbers, William Burroughs traces a similitude between his own writing technique of cut-up and Raudive's "ghost voices" recordings, intentionally creating a mysterious aura around the subconscious process of creativity. Acousmatic music could be seen to be treading the same path; and maybe the same could be said for most creative exploration.
Artistic and musical research often brings results that are surprising not only for the viewer/listener, but also for the artist as well. Unexpected changes, distortions and deviations are a lively part of any creative and intellectual process; but sometimes they are also intentionally part of the project from the beginning.
In his debut as a director Shadows, John Cassavetes let the actors free to improvise on a scenario, something accustomed in the Italian Comedy of Art, but quite unusual in Hollywood. Besides exploring the issue of interracial relationships in a very simple and enlightened way, he also offers one of the best family rows in the history of cinema.
Occulto Fest involves artists and musicians that often focus on unusual, creative and diverted ways to collect and use
data, be they recorded sounds, scientific data, legends, computer programming languages, novels, circuits or images
found on the web. But this is not the full story; they also do so with wit, utilising well developed skills and with the criticaland challenging approach which has always been the best part of any DIY philosophy.
Occulto Fest proposes an exploration of something between scientific experimentation, wonder, hoax, subconscious suggestions and physical reality, using music, videos and other media.
Alice Cannava + Federica Rossella
—
AC Galerie + Occulto Magazine
Talstrasse 3
13189 Berlin
www.ac-galerie.net
www.occultomagazine.com