Witness to murder (1954) by Roy Rowland
aka: Zeugin des Mordes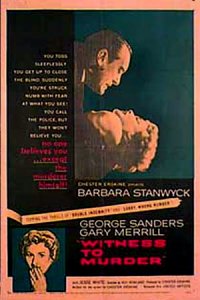 For the police this case is an easy one: because there is no case. This poor woman Cheryl Draper (Barbara Stanwyck) must have suffered of hallucinations and than got possibly carried away by her confused womenly phantasies, when she witnessed honourable writer and opposite neighbour Albert Rethi brutally strangling to death a young woman. And on top of all she even dares to accuse him of threatening and stalking her. Just as well that eventually her miserable and hopeless situation of helplessness and despair gets her the sympathies of the investigating police inspector Lawrence Matthews (Gary Merrill)….
seen at: pickledfeet private videothek